The classes which are marked with a Z will be live streamed via zoom while being taught in the studio. Just click on the link below that belongs to the class of your choice. We will open zoom 5 min prior to class. You can tick your existing class card or purchase a casual class. Just talk to the teacher if you are not sure what to do.
If you want to use the zoom option sporadically and come to class in between, we do prefer that you pay Cash at arrival, or use Dosh if you prefer to pay digitally.
If you on the other hand want to participate in the zoom classes exclusively, please pay via the Dosh app.
Download the app, use the referral code 00014 056 and then scan the QR code !
QR code for IYC ---->
Casual class is $22 (zoom or studio)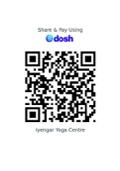 Please find the Zoom links and ID below the timetable